CDJR Brooksville Gives a Duck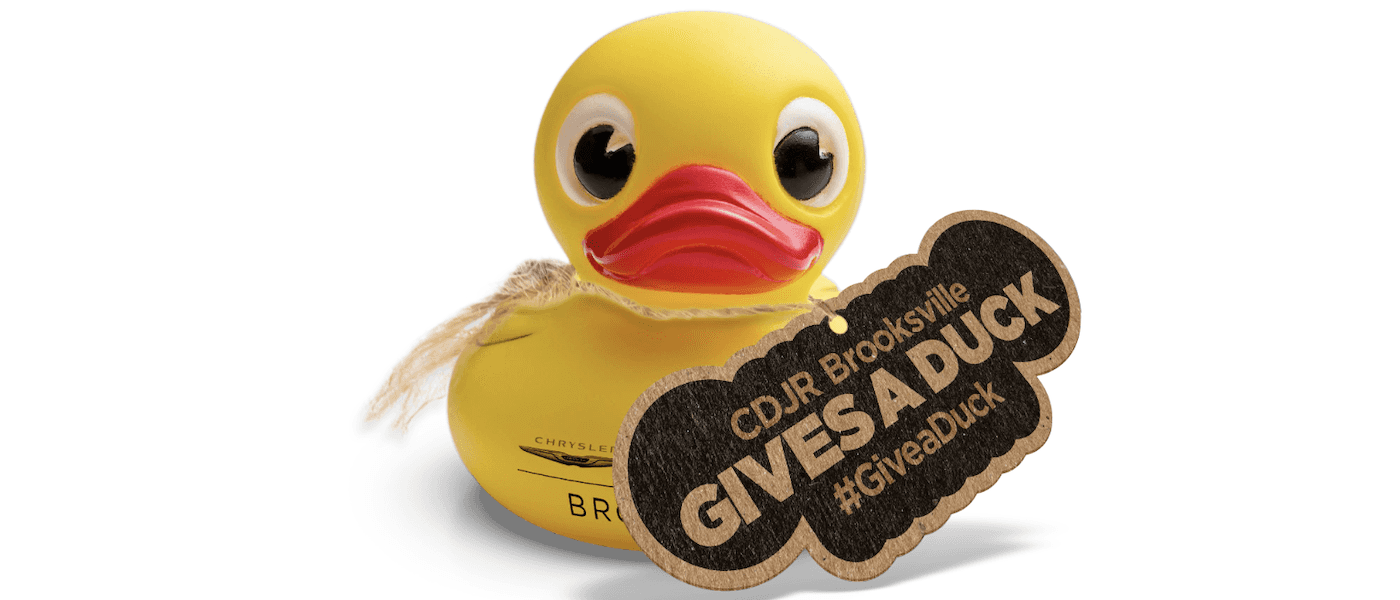 You may have heard about Jeep ducks but wondered what they mean exactly or how this all started. Much like the Jeep wave phenomenon, in 2023, giving a duck to your fellow Jeep owner is the new way to say hello. If you own a Jeep and haven't become a part of the trend, buckle up and get ready to be taken on one wild ride that all our Spring Hill drivers will enjoy.
Why Do People Put Ducks on Jeeps?
So, the million-dollar question: why do people put ducks on Jeeps? Like most good things, it all started with a single act of kindness. Having spotted a fellow Jeep on her travels, one brave Jeep driver decided to spread the Jeep love with a note…and a duck. One small social media post later, this small act has turned into a global sensation bringing thousands of Jeep drivers together with nothing more than one little rubber duck.
Jeep Ducks in Brooksville
Want to take part in the trend? Well, so do we! Which is why CDJR Brooksville has some ducks of our own! Here at CDJR Brooksville, we've started our own Jeep ducking campaign*. That way you can get in on the fun and reap the rewards of spreading kindness.
If you find or receive one of our CDJR Brooksville branded ducks, and you bring it into our dealership, you get a free oil change, and you'll receive five more branded ducks to pass on to other Jeep drivers in the area. That way you can keep the momentum going!
Join the Jeep Ducking Trend With CDJR Brooksville
With all the drivers of Hudson taking part in this game of duck duck Jeep, CDJR Brooksville wanted to join in on the fun too. Now, not only do you get a free oil change when you receive a CDJR Brooksville duck, but you also get to take part in the liveliness and celebration of your fellow Jeep drivers when you receive five more!
Don't have a Jeep but want to participate in the trend? No problem! We have an amazing selection of Jeep vehicles to choose from in our Brooksville inventory. If you're still unclear on the Jeep duck trend or our promotion, you can contact us or speak with a member of our service center team for more information. Happy Jeep ducking!
More From CDJR Brooksville
The new Jeep Gladiator would look great rolling down any Brooksville street. But does it have enough room for you and your passengers to spread out? What about the 2023 Jeep Gladiator bed size? Can it handle all the stuff you have to haul? Is the 2023 Jeep Gladiator wheelbase wide enough to afford…

If you're considering the 2023 RAM 1500 and wondering about its gas mileage, you'll be pleased to know that it offers impressive fuel efficiency for a full-size pickup truck. The RAM 1500 is engineered to deliver a balance of power and efficiency, making it a great choice for Spring Hill drivers who want to save…

The 2023 Jeep Gladiator takes everything you love about the classic Jeep Wrangler and enhances its performance and utility with an all-new midsize pickup design. The result is an open-air vehicle with rugged 4×4 capability, seating for up to five, and a generous cargo bed. The Gladiator is also the first-ever Trail-Rated pickup in…